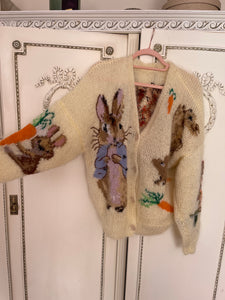 Handmade cardigan. Adorned with delightful Peter Rabbit illustrations, carrots, and two adorable kissing rabbits on the back, this cardigan is a whimsical ode to the beloved children's tale.
Each cardigan is lovingly handmade, taking three weeks to complete. It's a testament to the dedication and care of our artisan, who knits with a passion for creating something truly special.

The cardigan is crafted from the softest cloud-like mohair, ensuring that it not only looks dreamy but also feels like a warm embrace. It's a premium piece that envelopes you in comfort and luxury.
Our cardigan is designed to fit sizes 6-14 comfortably. However, if you desire a custom size, simply send us your measurements after purchasing, and we'll tailor it to your sizing for a perfect fit.